ARISTO DEVELOPERS – ANOTHER SOLD OUT PROJECT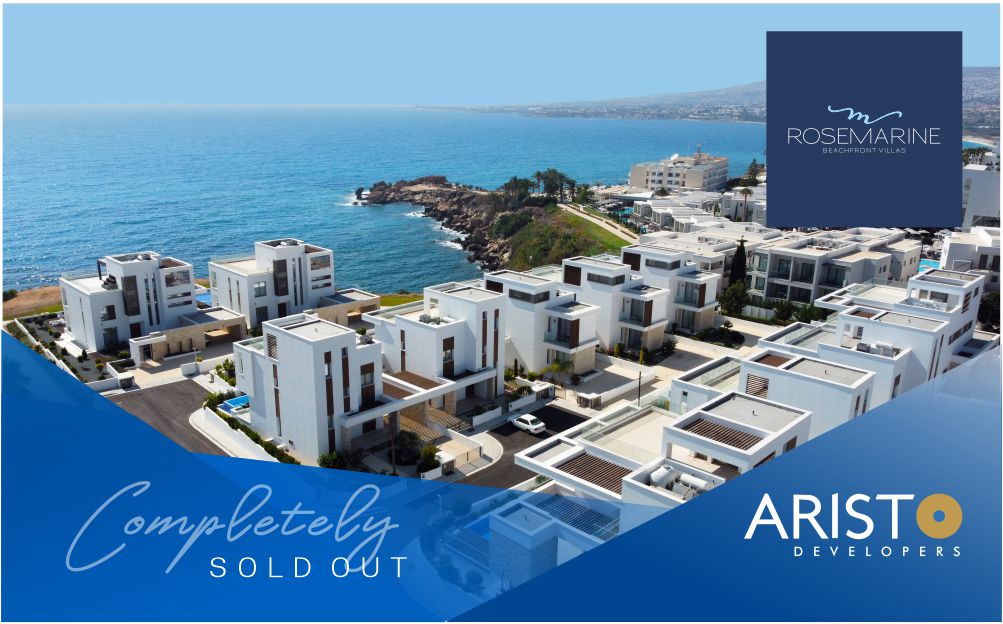 ROSEMARINE BEACHFRONT RESIDENCES
THANK YOU FOR YOUR TRUST!
As a pioneer in the real estate and construction industry in Cyprus with an impressive track record of more than 40 years, and with over 265 completed developments under its belt, Aristo Developers announces another SOLD OUT project.
Aristo Developers' projects continue to attract the interest of buyers who are looking for solid property investment options in Cyprus.
Amongst the Group's developments which have been increasingly popular with real estate investors the Rosemarine Beachfront Residences in Paphos. This project comprised of detached residences, spacious apartments, and shops in the heart Pafos. All villas, apartments and shops have been 𝐒𝐎𝐋𝐃 𝐎𝐔𝐓!
With a track record of consistency and confidence, Aristo Developers continues to play its leading role in the field of land development in Cyprus and maintains its lucrative growth by designing and delivering projects of international dimension supporting the economy of our country and particularly of Pafos and Limassol where many other new projects are soon to come.
At Aristo Developers, we create lifetime experiences by developing quality living because we care for our clients, our associates, our people and our community.  With a steadfast approach, Aristo Developers is determined to continue its expansion strategy into 2022 by 𝗹𝗮𝘂𝗻𝗰𝗵𝗶𝗻𝗴 𝗮𝗻𝗱 𝗱𝗲𝘃𝗲𝗹𝗼𝗽𝗶𝗻𝗴 𝗻𝗲𝘄 𝗽𝗿𝗼𝗷𝗲𝗰𝘁𝘀 evolving dynamically based on its core principles and values on which the Company was originally founded.
𝗩𝗶𝗲𝘄 𝐏𝐫𝐨𝐣𝐞𝐜𝐭 𝗢𝗻𝗹𝗶𝗻𝗲: https://bit.ly/3r932EQ
𝐖𝐚𝐭𝐜𝐡 𝐏𝐫𝐨𝐣𝐞𝐜𝐭 𝐎𝐧𝐥𝐢𝐧𝐞: https://bit.ly/33mV8j1
𝗔𝗥𝗜𝗦𝗧𝗢 𝗗𝗘𝗩𝗘𝗟𝗢𝗣𝗘𝗥𝗦
LEADING THE CYPRUS PROPERTY MARKET
FOR 40+ YEARS
𝗖𝗼𝗻𝘁𝗮𝗰𝘁 𝘂𝘀 𝗳𝗼𝗿 𝗺𝗼𝗿𝗲 𝗱𝗲𝘁𝗮𝗶𝗹𝘀:
(+357) 26 841 800
info@aristodevelopers.com