Pelagos Beachfront Residences – Modern Coastal Residences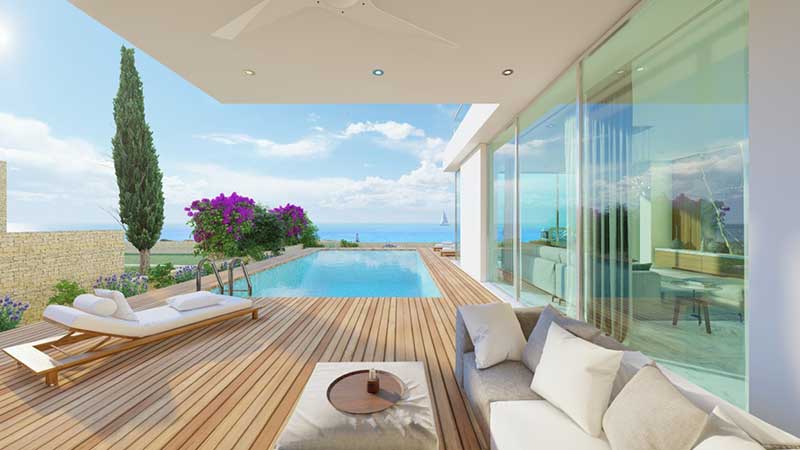 Pelagos Beachfront Residences – The new project of Aristo Developers
Set amidst a unique, beautiful coastal area of Paphos, and overlooking the eternal blue of the Mediterranean, Aristo Developers has completed the design and is proceeding with the construction of a new unparalleled seaside development. Pelagos Beachfront Residences, the new project of the Group, is designed to radiate an impeccable beauty and architectural aesthetic perfection.
The group's new project, which seals Aristo Developers' leadership in real estate development, embraces a beautiful coastal creek, in a place of unparalleled natural beauty, next to sandy beaches, in one of the most idyllic locations in Paphos.
Pelagos Beachfront Residences comprises of 47 luxurious 3, 4 and 5 bedroom modern villas, combining elements of traditional Mediterranean architecture in a unique way to perfectly match the natural environment.
Each villa in the project is designed to enjoy the most breathtaking views of the sea offering the owners quality amenities that are next to none. The villas feature large private swimming pools, gardens, spacious and functional interiors with hand-picked specifications of international standards to be appreciated by the most discerning international buyers.
With a track record of consistency and confidence spanning beyond 40 years, Aristo Developers is an undisputable leader in the field of land development in Cyprus and continues its drive to grow by designing and constructing projects of international dimension supporting the economy of the country and especially Paphos where it soon plans to develop many other new projects.